Earlier this week I was happily researching an artist by the name of Edythe Boone, a Brooklyn born, California based, muralist and activist, when I came upon this beautiful, woman-executed collaboration called, "MaestraPeace." "MaestraPeace" is one mural comprised of several, produced by seven female muralists on two sides of The Women's Building in San Francisco. The building is located at 3543 18th Street, and is one of the city's largest murals.
And what does "MaestraPeace" have to do with Edythe Boone. Please. Follow me down my rabbit hole. I plucked Boone's name off of a list I created a while back of several artists whose work and life I wanted to explore.  Boone's name was towards the bottom of the list – that section being comprised of California artists. I found that Boone was born in 1938 and some of the themes of her work address the crack epidemic of the 80's, poverty, racial discrimination and other issues. Boone was also one of the seven muralist who created "MaestraPeace."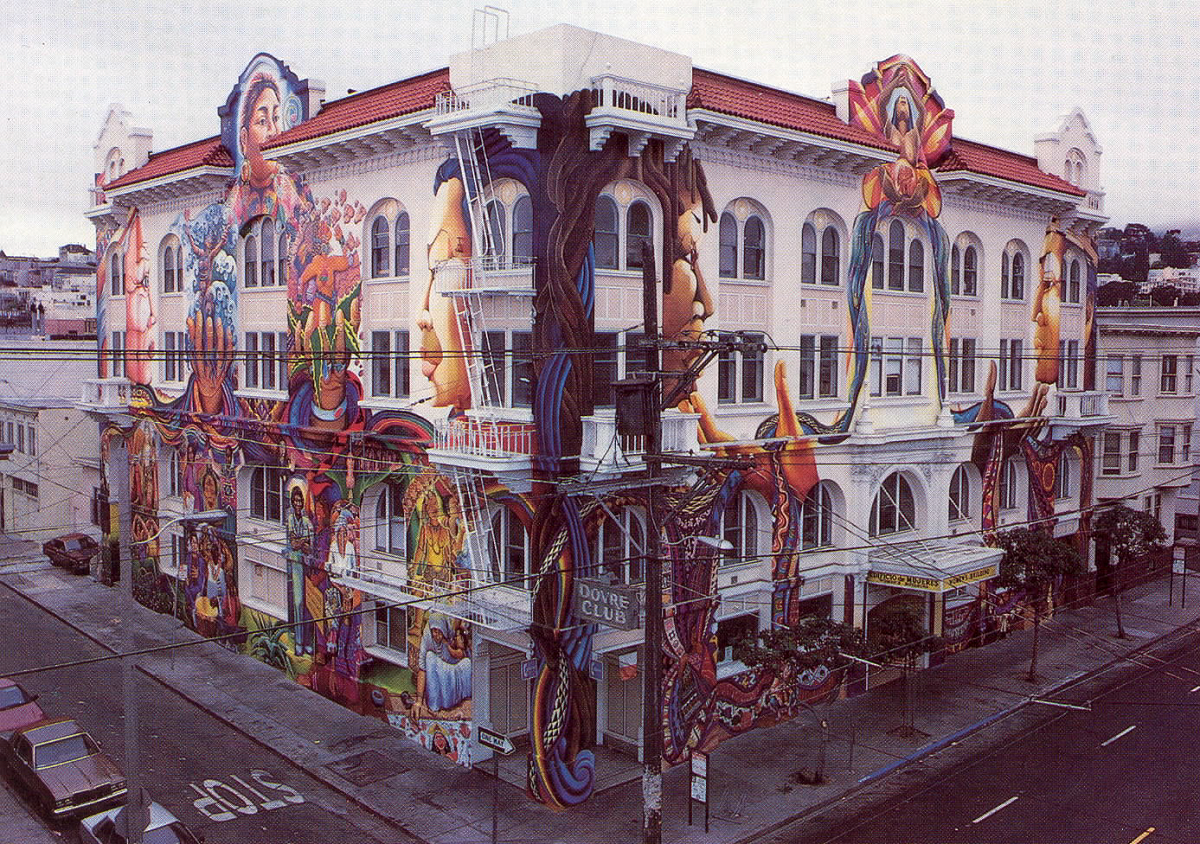 According to the Women's Building press information, the mural is a, "testament to the courageous contributions of women through time and around the world." The mural's creation began on May 8th, 1993 on two exterior facades of the five-story building. It was completed in 1994. Six years later, a restoration effort was initiated to removed graffiti, and additions were made to on the 18th street façade. Ten years later, in 2010, more additions were made to the 18th street entrance and the mural crept into the building with even more additions featured in the building's lobby and stairwell. In 2012, a complete restoration of the mural was executed, by all seven of the original artists, plus 100 additional volunteers.
The seven artists are: Edythe Boone; Yvonne Littleton, Juana Alicia; Miranda Bergman; Susan Kelk Cervantes; Meera Desai; and Irene Perez. A book about the mural is in the making and will be dedicated to the memory a calligrapher who donated her time to paint the names of the women involved in the mural's creation. Her named is Olivia Quevedo. It's also dedicated to the memory of Edythe Boone's late son, Delexes Woods.
If you want to learn more about the mural and the artists who produced it, go to: www.maestrapeaceartworks.com.